Air column bag is a pliable PA/PE co-extrusion plastic material used for packing fragile items. Unlike bubble wrap, Air Column Bags have a valve to allow the air column bag to be inflated or sometimes deflated to provide cushioning for fragile items.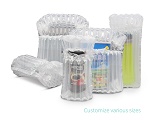 However, Air Column Bag is made of Pe/Pe co-extrusion film. With different ratio of PA and PE, Air Column Bag features different tensile strength and air tightness.The air column bag usually using for the wine,valuables,liquid packing.Inflatable can able protect the goods better for the long-distance transport.
Air column bag is made out of two layers of PA/PE co-extrusion films with air valve film in between, and heat pressed with high temperature mold to melt them together and create air columns bag and shapes, so air column bag is inflatable and has a variety of styles and types such as PA/PE air pillows, PA/PE bubble cushion films.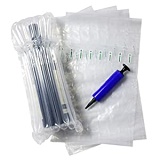 The features of air column bag:
1. Air column bag can be shipped flat and inflated on-demand. Once inflated the continuous valve seals each column independently from each other. It needs fewer warehouse room than bubble wrap or foams. If one column is broke, other columns still work as cushioning protection.
2. A single valve air bag is a type of air column bag. It can be inflated or deflated and used as a stick or sign. With bottom ends open, it can be used to seal flowers or small fragile items.
3. Benefitting from great tensile strength of PA, air column bag is tougher than common air cushion materials such as bubble wrap, air pillows.
4. The air pressure inside of the air column bags are greater than the atmosphere pressure. It provides strong compressive strength and flexibility. So, Air Column Bag is one kind of excellent cushion materials.
5. Unlike bubble wrap, it is a difficult and tired thing to compress and rupture Air Column Bag, so it cannot be used as a source of amusement.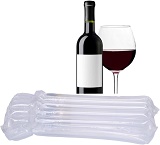 Shenzhen Chuangxin Packing Material Technology Co., Ltd. has 14years production experience of packaging in China which has 4 factories, There are 500workers,50000㎡ industry park, Also we have ISO,FSC,EPR certification. Shenzhen Chuangxin Packing Material Technology Co., Ltd is the forefront of the logistics and pacakging industry high tech enterprises with research and development, production,sales.There are brand trademarks such as Yinuo,Zhonglan, Huanyuan,Troson,Creatrust  and more than 30 invention patents. Since its establishment in 2008,corporate mission is "make the world more invironmentally and friendly" and committed to become the global leader in environmental protection packaging —the world's top 500 enterprises. We are extremely flexible with our work. This enables us to offer a full range of products in the field of OEM and ODM.Chuangxin's main two core business: 1. Environmental friendly biodegradable packaging, including poly mailer, bubble bags, paper bags, cartons, air column bags, various types of plastic bags.2.Automation equipment category, to provide independent research and development machine to customers such as bubble mailer machine, poly bag machine and other logistics packaging equipment.We knows that the development of a company needs the supports from customers, thus we place great importance on both quality and service, by providing highly efficient and cost effective manufacturing solutions to our customers.
Finally,we warmly welcome customers from at home and abroad to cooperate with us for common success.
---
Post time: Nov-02-2022